Christine Armbruster | www.christinearmbruster.com
For six years now I have been taking backroads across Utah. It started as a form of escapism during college. It was an excuse to leave campus and go as far as I could in a single day to the strange corners of a state that was not my own. I wanted to explore what made Utah what it has come to be. These small towns that felt as foreign to me as any country I have visited. With a goal to not photograph any town with a population of over 800 people, I have spent the majority of my photography career on this long term project trying to understand a place which I now consider home.
Christine Armbruster is a documentary photographer with a commercial background, blending the two genres to create work for clients in both fields. Currently she lives in Salt Lake City, Utah.
Adam Cohen | www.adamjasoncohen.photo
I get asked often, "What's Chicago like?". I always find myself struggling to answer this. The best I can do, is answering that question with analogy. Picture running a marathon

race and the runners starting at different positions in the race. We have a group of people who start at the 25th mile, there's another group that start at the half way marker, and lastly, the final group starts a few miles before the starting line. Who'd you think would win every time?

Life and prosperity is dictated by opportunity and chance. When opportunity is sparse, so is success. The city's neglect of the South and West sides has set millions of people behind the starting line, with little chance to finish the race.
Adam Jason Cohen (b. New Jersey, 1986) is a photographer currently living and working in Chicago, Illinois documenting the social landscape and human condition with a focus specifically on the South and West Sides of Chicago. After attending the BFA-Photography program at AIB-Lesley University he soon found himself at home in Chicago, where he has lived the past five years. His work has been showcased in print and online in local and international publications. He also produces his own small-run limited edition books documenting his work in Chicago and is currently working on a number of larger scale bodies of work soon to be published.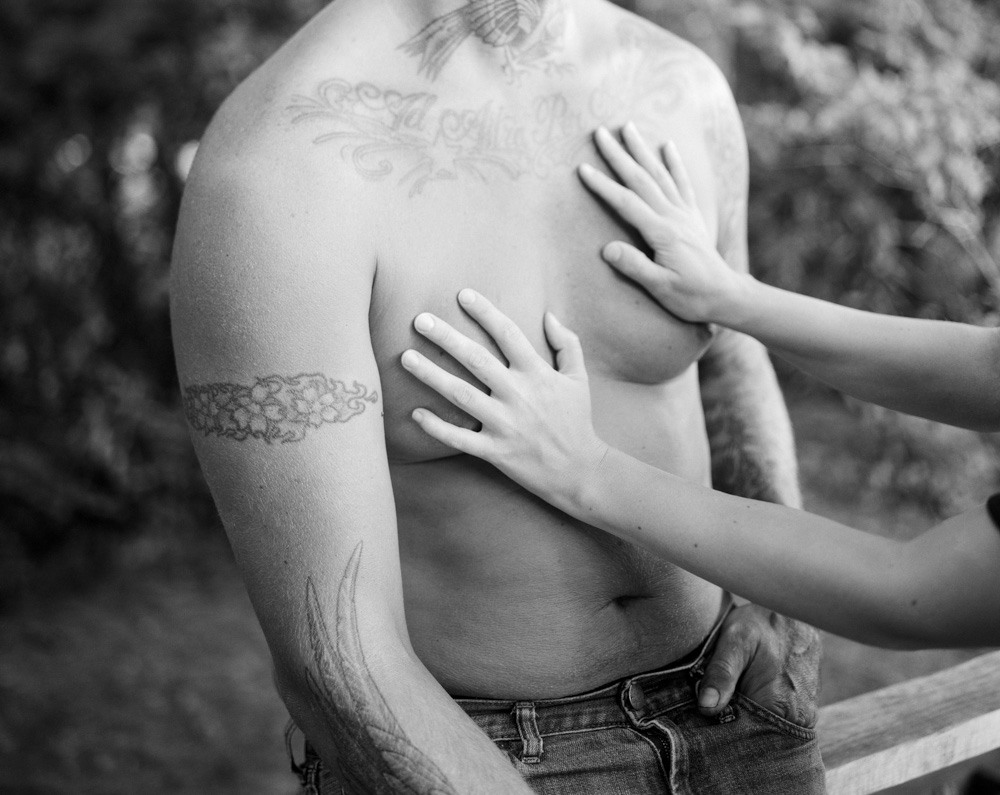 Rachel Jump | www.racheljump.net
The core of my photographic practice stems from a place of pure empathy- a desire to share my story within the collective human experience. My visual trajectory has always centered on the disparate nature of my own family, and my desire to create a sense of intimacy among us. For most of my childhood, my family's life was scattered over countless households. My faded memories of these places merely composed a fragmented idea of home. Photography finally provided a way in which I could eternalize these fleeting moments. As a way to cope with these feelings, I created a narrative hoping to join these places and reconnect with my family.

Rachel Jump (b. 1991, Chicago, Illinois) is a fine art photographer living in Chicago, Illinois. Her black and white images explore ideas of home, belonging, memory, and absence, and have been exhibited throughout the United States. She graduated from the Rhode Island School of Design (BFA PH'14), where she received the Harry Koorejian Memorial Scholarship and the Haining Family Scholarship. Rachel is represented by Alibi Fine Art in Chicago, Illinois, which held her first major solo exhibition in November 2015. Her work has also been featured in various publications, including LENSCRATCH, The Ones We Love, Whattaroll, LDOC, RISD XYZ, and Light Leaked. She made her curatorial debut at Filter Photo with Aint-Bad Metropolis: Chicago, which was an exhibition that highlighted a selection of artists making photographs in the Chicago area. She has taught at the Nantucket Island School of Design and the Arts and Maine Media Workshops + College. Rachel is currently working as a Portfolio Reviewer for LensCulture, as a Social Media Coordinator for Filter Photo, and as an editor for Aint-Bad. She will be a FIELD/WORK artist-in-residence at the Chicago Artists Coalition for from October 2016 – April 2017.
Joseph Mougel | www.josephmougel.com
Camouflage as a means of concealment has often been associated with military entities. It is important to note that the function of the camouflage extends beyond its practical use as a type of dress that conceals, to one that also unifies. This uniform not only facilitates the soldiers' blending into their environment, but also allows them to blur the lines within their own ranks. Within the context of modern warfare and its surrounding politics, the government fails to disclose the obvious implications of military service, instead hiding the potential for emotional and physical distress behind a mask of consistency. There is something amiss if there is a need to hide, and the acts of camouflaging and photographing ultimately focus on what is being concealed, creating a unique clash of contradictions.
Joseph Mougel received an MFA in photography from the University of New Mexico, where he also studied video and interactive media and participated in the immersive post-studio program Land Arts of the American West. Mougel has exhibited and lectured about his artistic practice both nationally and internationally, with examples of his work featured in such publications as Art Takes Miami, ARTL!ES Magazine, Art Papers, and After Image, as well as in books, including The Contact Sheet, Land Arts of the American West, and The End of California. He has participated in a number of artist residencies, including Elsewhere Artists Collaborative in Greensboro, NC, and 35/35 in New South Wales and South Australia, as well as an upcoming residency this summer at the Ucross Foundation in Wyoming. Mougel's photographs are included in a number of institutional collections, including the New Mexico Museum of Art, the Print Study Room at the University of New Mexico Art Museum, The Surplus Room at Elsewhere Artists Collaborative, and Green Street Press at the University of Georgia. Through his work, Mougel examines his own identity as a first generation American and a former Marine through still imagery, sound, video, and installation, where conventions of the traditional photograph persist.
Rana Young | www.ranayoung.com
The Rug's Topography began with me photographing my intimate partner of six years, staging him as a conduit for my own fears and insecurities. These anxieties arose in response to distance widening within our shared private space. You could say we were growing apart romantically while we were growing up together. We were coming to terms with what roles we served in our relationship based on examples from our upbringings. When my partner revealed his internal struggle with expected gender roles, I started to re-evaluate the expectations that I had projected onto him. We ultimately determined we had compromised beyond our comfort zones resulting in a mutual acceptance that the context of our relationship could change, but our emotional intimacy did not have to be sacrificed.
The staged portraits and ambient photographs create a cyclical narrative capturing the push-pull through the liminal space between the performative self and the expected self

and serve as my reflections on the trajectory and circumstances within our relationship, past and present. The vantage point allows access into the private domain to witness the madness of self-discovery. The ebbs and flows of growth redefining identity are highlighted through themes of intimacy, transition, and introspection within the home.
Rana Young (b. 1983, Missouri) is an MFA candidate, Othmer Fellowship recipient, and Instructor of Record at the University of Nebraska Lincoln. Recently, she was included in Detroit Center for Photography's "NEW DIRECTIONS Gallery", awarded Second Place in the "2016 Lenscratch Student Prize", and was a recipient of Society for Photographic Education's "2016 Innovations in Imaging Award." Rana's work has been exhibited nationally and internationally, as well as published online by Fraction Magazine, Fotografia Magazine, and Aint-Bad Magazine among others.